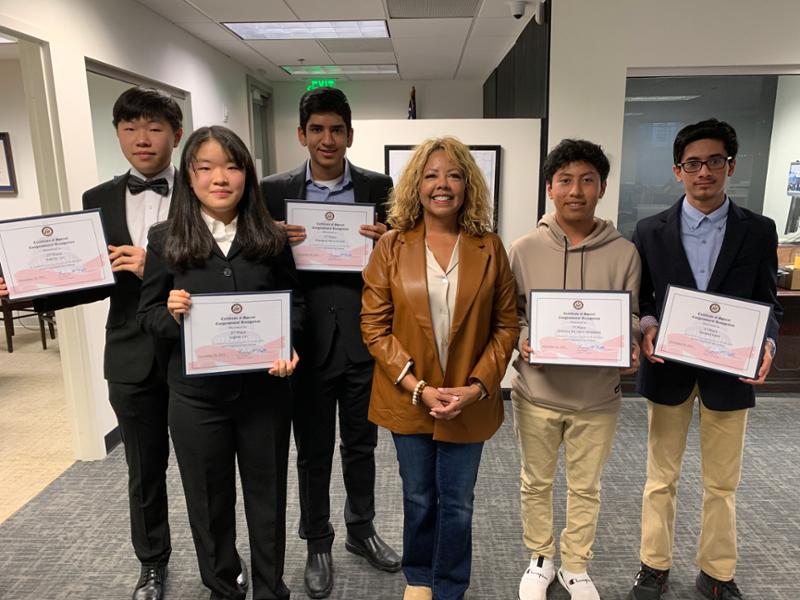 Sandy Springs, GA — Last week, Rep. Lucy McBath held a reception at her Sandy Springs district office for the winners of the 2022 Congressional App Challenge for Georgia's Sixth Congressional District. The Congressional App Challenge invites middle and high school students to design and execute original apps, inspiring young students to explore an education and career in STEM.
"Once again, I am reminded of the incredible talent and creativity of our community's young people," said McBath. "Not yet out of high school, these young innovators have identified areas of need in our nation and used their talents to develop solutions to solve some of our biggest problems. As I have said in years past, the future of our country is very bright with these students at the helm."
Winning third place in the competition was an app called "Atlas-The College Guide." This app was created by Fulton Science Academy student Pranavkrishna Suresh.
In second place was an app called "Alzheimer Disease Assessment System (ADAS)." This app was created by Chattahoochee High School students Sophie Lin and Keefer Lin.
The winning app was entitled "DNAImpute." This app was created by Chamblee High School students Naveed Kabir and Anthony de Leon Velasquez.
In total, 52 students from Georgia's Sixth District participated in the 2022 Congressional App Challenge and created 36 different apps. The competition was comprised of students from Dodgen Middle School, McCleskey Middle School, Taylor Road Middle School, Chamblee High School, Chattahoochee High School, Fulton Science Academy, Innovation Academy, Kell High School, Lambert High School, Milton High School, Northview High School, North Springs High School, Pope High School, Sprayberry High School, Walton High School, and Wheeler High School. "DNAImpute" will be eligible for display in the U.S. Capitol.

Pictured from left to right: Keefer Lin, Sophie Lin, Pranavkrishna Suresh, Rep. Lucy McBath, Anthony De Leon Velasquez, Naveed Kabir